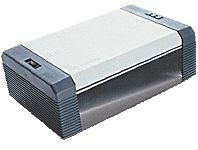 Freedom Scientific - Braille Blazer
A top choice for students, professionals or for home use, the economical Braille Blazer is compact, quiet, and gives you high-quality Braille on many sizes of Braille paper, plastic labels and even index cards.
Its internal speech synthesizer allows quick and simple configuration that can be used with any PC or Freedom Scientific notetaker.
---
More Information
Landscape emboss feature creates long format spreadsheets or screen dumps
Prints on papers and special plastics from 1 inch to 8.5 inches wide
Prints 15 cps in 6-dot or 8-dot Braille
Includes parallel cable, print and audiocassette manuals
Size: 13.5 inches by 8 inches by 5 inches (with lid closed)
Weight: 12 pounds
Side carrying handle
Power: Standard household AC
Optional carrying case available
To purchase, contact us by email or Toll-Free: 866-339-1180.