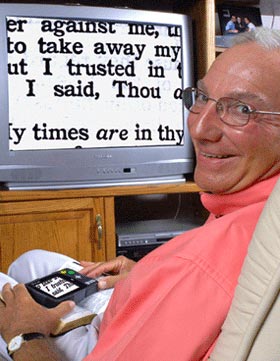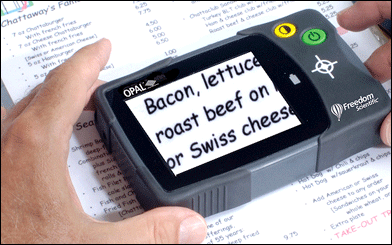 OPAL - Portable Video Magnifier
When traditional magnifying glasses are no longer enough, the OPAL is the answer. It's the world's smallest, most feature-packed ultra-portable video magnifier - and it's easy to use, even for people unfamiliar with technology!
The perfect traveling companion - powerful, yet so easy to use.
---
More Information
Small: 10 ounces, and compact enough to slip into a coat pocket or purse
Connect it to your TV, or computer with optional USB connection
Simple and versatile:

The easy zoom slider adjusts magnification from 4.5x to 9x
One button adjusts the screen from full color for viewing pictures to any of five high-contrast text modes
The built-in writing stand raises the OPAL, and keeps the focus on your writing

Click here to download PDF Poduct Data Sheet - (237 KB)
To purchase, contact us by email or Toll-Free: 866-339-1180.