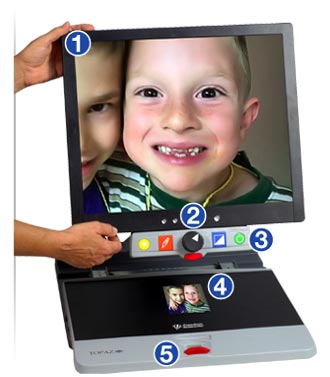 TOPAZ - Desktop Video Magnifier
Now you can maintain full control over the essential, everyday activities of your life: Enjoy leisure reading again, correspond with friends and family, read contracts, bills and prescriptions, enjoy needlepoint and other hobbies, and much more. Has such powerful features as:
Three models to choose from:
Topaz with standard monitor
Topaz with flat screen monitor
Topaz camera only model - no monitor
---
More Information
LCD Monitor - Adjust the monitor height and tilt for your viewing comfort.
Magnification Dial - Adjust magnification from 3 times up to 78 times.
Color Panel - Simple, accessible controls for color selection and brightness.
Position Locator Beam - Makes exact document placement easy.
Reading Table - Features finger-tip control and wide side-to-side motion.

Click here to download PDF Poduct Data Sheet - (279 KB)
To purchase, contact us by email or Toll-Free: 866-339-1180.