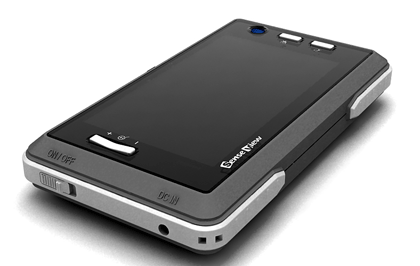 GW Micro Portable SenseView
Imagine if you could read a road map, a can of food while shopping in a grocery store, or a menu at a restaurant. With the Portable SenseView CCTV, you can do all of that and more. Are you worried that you are taking the wrong medicine because you are having trouble reading the text on a medicine bottle? Your worries are over. The Portable SenseView makes life easier, and is simple to use. If you can press a button, you can use the Portable SenseView.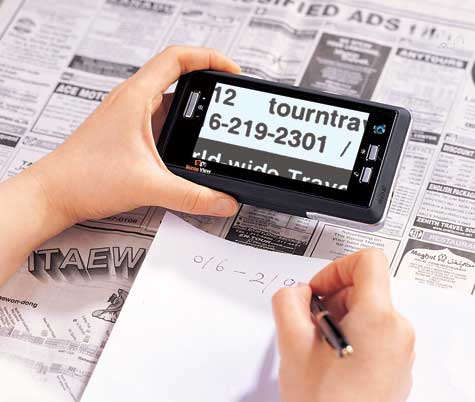 The Portable SenseView CCTV is the world's smallest portable CCTV, and is packed with features. The Portable SenseView has a 4.3" widescreen LCD display, and weighs a mere 7.8 ounces. The powerful magnification of the Portable SenseView is unmatched by any handheld portable CCTV; allowing even very low vision consumers to use the Portable SenseView. While other handheld portable CCTVs are limited to a maximum of 7x magnification, the Portable SenseView can digitally zoom in and out on an image with the simple press of a button from 4x all the way up to 22.5x. The Portable SenseView also offers four brightness levels and 6 different color modes for easy viewing. You can read print in color, black and white, or with one of the other 4 color choices.
With two foldable legs, the Portable SenseView provides multiple viewing configurations. The legs can be unfolded one at a time to tilt the screen toward you to making for a more comfortable reading position. The Portable SenseView even allows you to take a snapshot of the image displayed on the screen. You can hold the unit close to your face, and zoom in on the image for an even closer view.
Not only is the Portable SenseView the world's smallest portable CCTV, it also has one of the longest battery lives. While other portables only give you 1 to 4 hours worth of battery, the Portable SenseView provides you with an amazing 5 hours of continuous use. If you want to know when to recharge the battery, simply turn on the battery meter, and find out how much power you have left. No more guessing how much power is left, and no more worrying about the battery going dead while at the store or restaurant.
---
More Information
LCD window size: 4.3 inch Wide QVGA TFT-LCD (16:10 wide)
Zoom: 4x ~ 22.5x
Brightness: level 1 to 4
Color: 6 color modes: Full color / Black on white / White on black / Yellow on blue / Blue on yellow / Blue on white
External video input
Power Saving Mode
Battery Indicator Icon
Battery type: Rechargeable lithium polymer; Battery Operational time: 5 hours; Recharge time: 3 hours
Sliding handle
Dimensions: 5.75" x 3.27" x 0.89" (146 mm x 83 mm x 22.5 mm). (25(H) mm, Legs unfolded)
Weight: 7.8 ounces (221g)
Warranty: Unit - 1 year / Battery - 3 months
To purchase, contact us by email or Toll-Free: 866-339-1180.