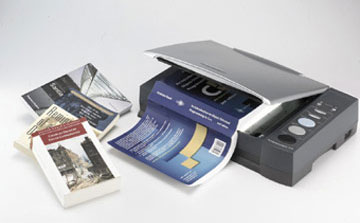 plustek OpticBook 3600
Introducing a simple, innovative solution to scanning books.
With Plustek's patent pending SEE™ (Shadow Elimination Element) Technology, any book can lie completely flat on the scanning glass. The result is a perfectly scanned image with no annoying book spine shadow and no distorted lines of text.
In contrast to professional book scanners which are targeted mainly for large libraries, archive museums, and corporations with big budgets, OpticBook 3600 offers an affordable solution for all libraries, copy rooms,students, teachers, universities, SOHO, law offices, publicists, and work groups.
Features
The OpticBook 3600 brings affordable value in its unique design, eliminating the book spine shadow and text distortion of traditional book copying and scanning. Our clever design avoids the need for a large, expensive overhead scanner or complicated image-editing software.
Whereas professional book scanners target mainly at large libraries, museums, or corporations with big budgets, our book scanner is affordable to individuals, students, families or small group users as well.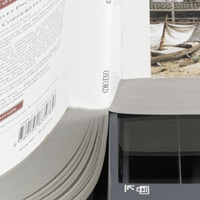 Seven one-touch buttons are designed to make your scanning easy and efficient, whether you're using bound originals (e.g., books, magazines) or normal paper (e.g., photos, documents). With just one touch, you can save the scanned images or convert images of the text document into text files that can be edited with a word processor. You may also choose to send them to another application for further editing, to a printer, or to a new e-mail message as attached files.
Plustek's patent pending SEE™ (Shadow Elimination Element) Technology includes a specially designed edge and lamp. This revolutionary technology allows half of the book to lay completely flat on the glass with the binding against the corner edge. Click here for more information.
---
Product Specifications
Interface - USB 2.0
Technology - Color CCD image sensor
Hardware Resolution - 1,200 dpi
Interpolated Resolution - 24,000 dpi
Scanning Modes - Color: 48-bit input, 24/48-bit output, Grayscale: 16-bit input, 8/16-bit output, B/W: 1-bit
Max. Flatbed Scanning Area - 216 x 297 mm (8.5" x 11.69", A4/ Letter Size)
Action Buttons (regular) - Custom, E-Mail, Copy, OCR, Scan
Action Buttons - (book scan) - Book Pilot, Preview, Color Scan, Grayscale Scan, Text Scan
Weight - Approx. 3900g / 8.5 lb (scanner only)
Dimensions - (D x W x H) - 453 x 285 x 105 mm (18 x 11 x 4 inches)
Scan Mode - Single Pass
Lamp - Cold Cathode
Power Consumption - 18W (operation), 4.3W (idle)
Cable Length - 59.06" (150 cm)
Regulatory Certificates - CE, FCC, UL/cUL, TUV
System Requirements - IBM Compatible PC, with Pentium II or faster CPU, CD-ROM Driver, One available USB Port, 128 MB RAM (256MB recommended), 500 MB free HDD space, High Color graphic card (VGA or higher), Microsoft Windows XP, 2000
To purchase, contact us by email or Toll-Free: 866-339-1180.