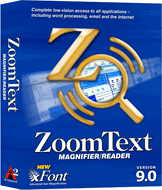 ZoomText Magnifier / Reader
Combining the revolutionary new features of ZoomText Magnifier with a powerful set of reading tools, ZoomText Magnifier/Reader gives you the total computer access solution. See and hear what you're doing in all of your applications, and give your eyes a rest while ZoomText reads your documents, web pages and email - right through your computer's speakers. With ZoomText Magnifier/Reader, your computer is easier to see, hear, and use.
---
More Information
Easy to See
1x to 36x Magnification - Includes fractional powers of 1.25x, 1.5x, 1.75x and 2.5x.
Eight Zoom Window Types - You choose which part of the screen is magnified.
New 'xFont' Advanced Text Magnification - Displays the clearest magnified text possible, at all magnification levels. Once you've seen it, no other screen magnifier will do.
Color, Contrast and Brightness Controls - Change screen colors to eliminate glare and reduce eyestrain.
Visible Pointers and Cursors - Enhance the size and color of the mouse pointer and text cursor, making them easier to find and follow.
Easy to Hear
New 'NeoSpeech' Synthesizer Voices - Human-sounding reading voices that are closer to the real thing than ever before. (English only)
Complete Screen Reading - Program, typing and mouse echo options narrate all of your actions. ZoomText can speak as little or as much as you want.
Automatic Document Reading - Sit back and let AppReader or DocReader read your documents, web pages and email, highlighting each spoken word along the way.
Reading Zones - ZoomText's new Reading Zones let you instantly see and hear selected areas of your applications. Define up to 10 zones per application.
Easy to Use
Application Settings - Save unique settings for each application that you use. As you switch applications, ZoomText automatically loads the desired settings.
Web Finder - Quickly locate links and controls in any web page. Surf the web with greater speed and accuracy.
Desktop Finder - Quickly find and launch programs and documents located in your My Documents folder, control panel and on your Windows desktop.
Text Finder - Instantly locate words or phrases in any application or document window, then begin reading from any found location with AppReader.
Friendly User Interface - Makes it easy to access and adjust all of ZoomText features using the mouse or the keyboard.
To purchase, contact us by email or Toll-Free: 866-339-1180.