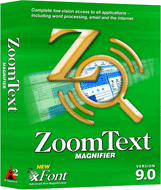 ZoomText Magnifier
ZoomText Magnifier enlarges and enhances everything on your computer screen, making all of your applications easy to see and use. Revolutionary new 'xFont' technology displays crystal clear text at all magnification levels.
---
More Information
1x to 36x Magnification – Includes fractional powers of 1.25x, 1.5x, 1.75x and 2.5x.
Eight Zoom Window Types – You choose which part of the screen is magnified.
New 'xFont' Advanced Text Magnification – Displays the clearest magnified text possible, at all magnification levels.
Color, Contrast and Brightness Controls – Change screen colors to eliminate glare and reduce eyestrain.
Visible Pointers and Cursors – Enhance the size and color of the mouse pointer and text cursor
Application Settings – Save unique settings for each application that you use. As you switch applications, ZoomText automatically loads the desired settings.
Web Finder – Quickly locate links and controls in any web page. Surf the web with greater speed and accuracy.
Desktop Finder – Quickly find and launch programs and documents located in your My Documents folder, control panel and on your Windows desktop.
Text Finder – Instantly locate words or phrases in any application or document window, then begin reading from any found location with AppReader.
Friendly User Interface – Makes it easy to access and adjust all of ZoomText features using the mouse or the keyboard.
To purchase, contact us by email or Toll-Free: 866-339-1180.