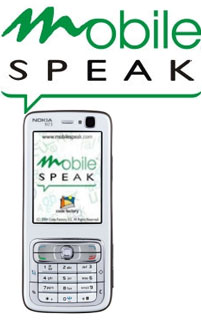 Code Factory SmartPhone
Breaking down yet another barrier to accessibility, Code Factory introduces Mobile Speak SmartPhone, the first ever full-fledged screen reader for SmartPhones powered by the Windows Mobile platform.
Mobile Speak SmartPhone allows you to:
Manage your call lists
Select and edit phone profiles
Track your schedule and contacts
Send and receive SMS and email
Browse the internet
Play different media files
Record voice notes
Change all device settings
Synchronize data with the PC via ActiveSync
Connect to other devices such asmobile phones, PDAs, and laptops to share data
Run third-party applications to enhance the functionality of the SmartPhone
Moreover, Mobile Speak SmartPhone provides:
Flexibility to choose and upgrade to any mainstream SmartPhone device meeting the system requirements
Several Text-to-Speech voices to choose from over 15 supported languages, allowing multiple TTS engines to be installed on the same device and easily selected anytime
Support for the Think Outside external Bluetooth keyboard using its driver for Windows Mobile SmartPhone edition
Support for an advanced scripting language, LUA, to make more applications accessible
A comprehensive on-board help system for learning commands and available functions
Offers three user-configurable modes with varying settings for TTS options, verbosity, and text input.
Lets you easily change the speech rate, speech volume, and active mode on the fly.
Reads the caller ID on an incoming call and mutes the ring tone with a single key press.
Includes an option for automatically muting speech when a call is active and lets you set the volume of screen reader speech during a call.
Reads status information including signal strength, battery level, number of missed calls and unread SMS, upcoming appointments and active tasks, Bluetooth and WiFi status.
Includes a command for switching between running applications, or quitting them.
Allows the user to hear either the contents of the whole screen or only what is in focus.
Provides speech feedback when entering data using multipress or predictive text input with different keyboard echo settings that can be changed on the fly.
Includes commands to navigate by character, word, or line, and to read continuously from the start of the text or from cursor position.
Features a user dictionary to define how words should be read.
Fully supports Messaging, Contacts, Calendar, and Tasks that can be synchronized with PC Outlook applications.
Supports Internet Explorer with commands to move by link, check the position on the web page, and to access online forms.
Supports Windows Media Player and the Voice Notes application for playing and recording audio.
Provides access to SmartPhone settings and the file system.
Includes commands to repeat the last spoken text and to spell it normally or phonetically.
Includes a command to toggle the muting of speech output anywhere.
Allows you to explore the screen with a review cursor that is independent of the system focus, but which can simulate the press of the Enter key on any item on the screen.
Features a Command Help Mode for learning all MSS functions.
In addition to support of regular Windows Mobile-based applications, Mobile Speak SmartPhone uses a powerful off-the-shelf scripting language called LUA, thus providing a way to customize the interaction of MSS with applications that haven't been designed using standard controls or a screen reader-compatible Windows user interface.
Moreover, Mobile Speak SmartPhone takes up relatively small program memory, is robust and reliable, fast and responsive, and extensible with user-customizable features. Through its Control Panel, it is possible to fully configure the behavior of MSS with over 50 different user settings. Configuration settings can be stored in different modes between which the user can switch anytime to suit his/her need or preference.
Mobile Speak SmartPhone is powered by state of the art Text-to-Speech engines provided by top leading speech providers, such as Fonix, Acapela, and soon Loquendo among others. Currently, MSP supports around 20 languages including English, Spanish, French, German, Italian, Portuguese, Dutch, Danish, Swedish, Norwegian, Finnish, Turkish, Czech, and many more to come.
Above all, Mobile Speak SmartPhone gives the user the option to use mainstream hardware with the specifications he prefers and at the price he can afford. This also makes upgrading to the latest hardware completely a choice of the user since MSS will continue to work on the device he currently owns. Even upgrading the firmware can be done by the user when device manufacturers release updates, and Code Factory will ensure that MSP supports all changes.
Note: SmartPhones are not the same as Pocket PC phones on which you must install Mobile Speak Pocket, another innovative screen reader from Code Factory. To understand the difference between Pocket PC phones and SmartPhones, click here.
---
System Requirements
In order to successfully use Mobile Speak SmartPhone, the following specifications are required:
Operating system - Windows Mobile 5.0 SmartPhone edition and later versions.
Memory - At least 32 MB RAM, and 2 to 20 MB of storage memory depending on the text-to-speech engine used. An external storage card compatible with your device is strongly recommended.
Built-in Bluetooth - A Bluetooth-compliant device is required to run Mobile Speak SmartPhone. This will also allow you to use Bluetooth-enabled external keyboards, headsets, and other accessories.
Connectivity to a Windows PC with ActiveSync - The device should be able to connect via USB or Bluetooth to a Windows 2000 or Windows XP computer with the latest version of Microsoft ActiveSync correctly installed.
Mobile Speak SmartPhone has been tested with a number of devices including those from Microsoft partner High Tech Computer Corporation, Motorola, and i-Mate. For a complete list of supported SmartPhones, please refer to the Code Factory MSS device compatibility list.
---
To purchase, contact us by email or Toll-Free: 866-339-1180.