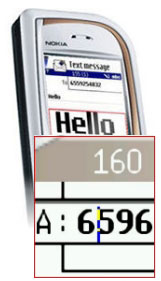 Code Factory Mobile Magnifier
Mobile Magnifier is an access solution for the visually impaired users of mobile phones. It provides not only full-screen magnification but also an easy-to-read view of the phone display, automatically detecting and enlarging the current area of interest. Variable levels of magnification allow the user to zoom in and out to see as much of the screen as necessary. Its auto scroll feature with configurable speed is another useful function when reading text.
Further, several hotkeys to perform magnification functions make it most versatile. In addition, Font smoothing, a customizable text cursor, and various options for magnification layouts, borders and color schemes are just some of the features that make Mobile Magnifier the best tool to increase your productivity and help you enjoy the complete functionality of your mobile phone.
Mobile Magnifier is installed when Mobile Speak is installed, thus providing speech output and screen magnification at the same time. Mobile Speak is currently available in the following languages: English, French, Spanish, German, Italian, Dutch, Norwegian, Swedish, Icelandic, Danish, Finnish, Turkish, Polish, Arabic, Chinese, Portuguese, Czech and Russian.
Mobile Magnifier is now available for the latest phones from Nokia featuring Symbian 9. Mobile Magnifier is now supported in more than 19 different phone models.
---
Product Highlights
Works in full screen mode by default with configurable zoom levels.
Offers a split (classic) view where the bottom half of the screen shows what is in the unmagnified top half.
Allows the user to have a distributed view of the current window with the magnified screen text at the center, while the window title and softkeys are displayed using a secondary zoom level.
Provides 9 magnification levels to choose from - ranging from 1.25x to 16x.
Includes an auto zoom function.
Features an auto scroll function with five speed settings.
First to offer font smoothing to improve readability of magnified screen contents.
Gives the user several color schemes to select which suits them best, including color inversion.
First to have a text cursor with customizable size and color.
Can draw borders of configurable width and color outside the magnified area.
Provides several Hotkeys to access the most common features of the Magnifier.
Includes special shortcuts that give the user a magnified view of status icons, indicators, and the date and time.
Can be configured to start automatically when the mobile phone is powered on.
Can be used with or without speech output provided by Mobile Speak , our screen reader for mobile phones.
Easy to use, no training necessary.
Supported Phones
Symbian 8 phones: Nokia 6630, Nokia 6680, Nokia 6681, Nokia 6682, Nokia N70, Nokia N72 and Nokia N90
Symbian 9 phones: Nokia 3250, Nokia 5500 Sport, Nokia E-series (E50, E60, E61, E62, and E70), and Nokia N-series (N71, N73, N75, N80 and N91)
---
To purchase, contact us by email or Toll-Free: 866-339-1180.