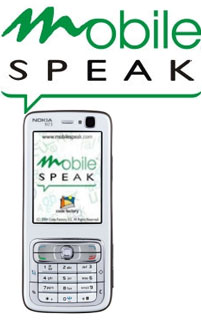 Code Factory Mobile Speak
The use of mobile phones is one of the challenges facing the vision-impaired. Mobile phones are designed primarily on visual concepts, without considering the needs of the blind or partially sighted. Mobile Speak is a screen reader solution for mobile phones that allows access to most of the functionality of the device. Mobile Speak is to mobile phones what JAWS is to desktop computers.
Mobile Speak is now also available for Symbian 9 phones.
It works with the Optelec EasyLink Braille (Not in Symbian 9 ed.) keyboard.
---
More Information
Provides several verbosity levels for a better user experience.
Additional voices and languages can be plugged in.
Supports the Optelec EasyLink Braille keyboard and different other braille keyboards (Currently not available in Symbian 9 version).
Different TTS are available to choose from: Fonix, Acapela, Loquendo.
Mobile Speak Version 3.0 offers the following exciting new features:
Support for Series 60 3rd Edition on the latest generation of mobile phones powered by the Symbian 9.x operating system.
Access to the built-in MP3 player on Series60 3rd edition phones.
Improved firmware independence (particularly on newer phones).
A new Keyboard Help Mode which allows users to learn Mobile Speak command assignments and familiarize themselves with the phone's key layout.
The ability to turn the speaking of secret numbers on and off.
Improved stability of Braille support.
More Braille language tables including German and Swedish.
Support for more Braille devices from Baum, Optelec and HumanWare.
More Product Info
For years, Mobile Speak has been a highly recommended screen reading software well-known for its excellent performance, ease of use and configuration, reliability, and competitive price. With internationally acclaimed and award-winning text-to-speech engines such as Acapela, Fonix and Loquendo available in around 20 languages, our distributors and customers worldwide continue to consider Mobile Speak as their much preferred screen reader on their Symbian phones.
With Mobile Speak you can:
Make and receive calls.
Write and read SMS, MMS, and e-mail messages.
Browse the internet using the Services application.
Manage call logs and the contacts list.
Use the Calendar and To-Do list.
Set the clock and alarms.
Configure profiles and phone settings.
Access other applications such as the Calculator, Converter, Notes, File Manager.
Run third-party applications for Symbian Series60 3rd edition.
Connect with computers, mobile phones, and other devices.
Mobile Speak is offered in a variety of languages: American and British English, French, German, Spanish, Italian, Portuguese, Dutch, Danish, Finnish, Norwegian, Swedish, Icelandic, Arabic, Turkish, Polish, Chinese, Russian, Greek and Czech.
Mobile Speak allows a free trial license so that you can freely test the software with no restrictions for one month.
Supported Phones
Mobile Speak is designed to work with the Symbian operating system and is carrier-independent.
Supported phones are: Nokia 3230, Nokia 3650, Nokia 3660, Nokia 6260, Nokia 6600, Nokia 6620, Nokia 6630, Nokia 6670, Nokia 6680, Nokia 6681, Nokia 6682, Nokia 7610, Nokia 7650, Nokia N70, Nokia N72, Nokia N90, Nokia N-Gage, Nokia N-Gage QD, Samsung SGH-D720, Siemens SX-1, Panasonic X700, Panasonic X701.
Symbian 9 phones: Nokia 3250, the Nokia 5500 Sport, the Nokia E-series (E50, E60, E61, E62, and E70), and the Nokia N-series (N71, N73, N75, N80, N91, N92, N93, and N95).
---
To purchase, contact us by email or Toll-Free: 866-339-1180.