Duxbury Braille Translator for Windows 10.6
True Windows software, supports all commercial braille embossers.
Accurate contracted braille formatted the way you want.
Localized into English, French, Spanish, German, Danish, Italian, Polish, Portuguese. Translators support numerous languages.
Imports files from Word, WordPerfect, HTML, and other formats.
Math translation available for Nemeth, BAUK, UEBC, and French Braille (best when using Scientific Notebook.
The world choice and standard for over 25 years!
---
More Information
NEW Undo and Redo features.
NEW Autosave feature.
NEW Change Case feature has been added, and is accessible using Shift-F3.
NEW A margin bell can be enabled for braille entry.
Enhanced JAWS scripts add support for braille document input and review.
NEW Templates included for every supported language.
NEW enhanced installation and activation process.
Improved Support for custom embosser definitions.
DBT can now optionally read publishers page numbers.
IMPROVED Enhanced [folds] code supports more sophisticated fold lines.
NEW Customizeable behavior of Alt-3 ("CBC"), CTRL-Enter ("New page"), and Enter
NEW vertical page centering.
IMPROVED Braille-Build can build fonts with California spacing, Marburg spacing for EU signmakers, Marburg Medium spacing for the EU Pharmaceutical requirements, and customizeable for thermal paper, thermoform and other processes.
NEW Graphics supported for the Romeo Attache.
NEW A /template command line option allows desired template to be specified for imported files.
NEW /brf and /prf command line options make it possible to use DBT as a file-to-file translation tool.
Updated Translations
The following language translation tables have been added or substantially updated:
American English
The support for NLS' "Instruction Manual for Braille Transcribers" partially-contracted braille series has been revised to reflect the fourth edition.
British English

The Fingerprint series has been added.
Support for the new rules has been added

Croatian
Farsi
French (unified)
German (contracted)
Hausa
Igbo
Indonesian
Irish Gaelic
Kazakh
Lithuanian
Norwegian
Portuguese
Russian
Somali
Turkish
Ukrainian
Unified English (UEB)
Welsh

Support for new rules
Support for math and computer notation within Welsh

Yoruba
(Some of these have been included in service packs for DBT 10.5)
Additional Interfaces
Korean
Polish
Russian
Portugal Portuguese (as well as Brazilian Portuguese)
Documentation developed at AVH for French users is now included also.
Still More Improvements
New BANA templates have been introduced. The Word template file is now called BANA Braille 2006. When importing to DBT, two templates are available; one is specifically for Nemeth documents.
IMPROVED WordPerfect imports.
IMPROVED French template translation table settings.
Operation of Workstations that Share an Activation.
IMPROVED handling of corrupted documents.
NEW Undo when typing over selected text.
NEW Undoing file inserts has been fixed.
NEW & IMPROVED Find and Replace dialogs are more flexible, search for or replace styles, use Control-< to enter the style as a.
IMPROVED Redesigned and uniform Emboss and Print.
NEW Hard spaces can now be entered when searching and replacing.
IMPROVED PED plate maker support.
What does our software for braille look like?
Whether you are blind or sighted, our software comes up as a standard modern application, fully accessible AND fully in tune with the latest advances in operating systems and sister applications.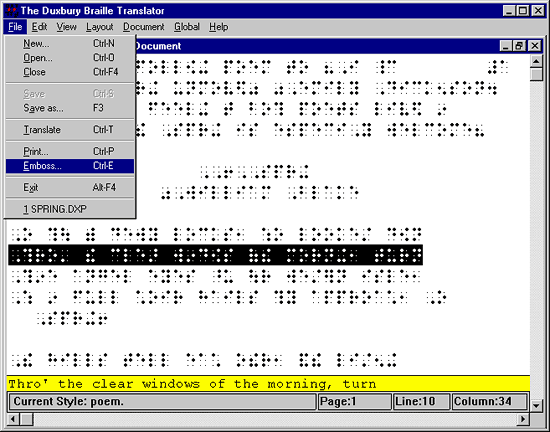 What does software for braille do?
Most people understand the basics about braille: that it provides a reading medium for blind people, using "cells" made up of raised dots in various patterns instead of the characters used in regular print. But many people do not realize that the cells-for-characters substitutions are not, typically, on a one-for-one basis. The process is especially complicated in languages such as English and French where "grade 2" braille is used, involving "contractions" that are based in part upon pronunciation. Formatting of braille pages also involves issues beyond those affecting print. DBT provides translation and formatting facilities to automate the process of conversion from regular print to braille (and vice versa), and also provides word-processing facilities for working directly in the braille as well as the print. "Fonts" are used for displaying the braille.
Who uses software for braille?
Our software is designed for two types--those who don't know braille and those who do. Even if all the braille you know was learned from the previous paragraph, the Duxbury Braille Translator (DBT) will allow you to create highly accurate braille for school books and teaching materials, office memos, bus schedules, personal letters, signs compliant with the Americans with Disabilities Act (ADA) and more. Where you need to be sure of "perfection," we would certainly recommend that you also make use of proofreading (just as you would proofread print books) by a knowledgeable braillist--who may be using DBT as well. That is because DBT is just as important to professional transcribers--for swift conversion to braille from a wide variety of print sources.
Interline Printing

Notable Features of DBT
DBT is simple to use--beginners learn in just minutes. Yet its depth, power and accuracy are such that it is used by most of the major braille production centers throughout the world. The current version provides the following at features:
Built-in interline printing (see sample above) to have ink-braille and print together. This makes an easy proofing and teaching tool. Great for the braille-impaired too!
Math/Science Code and Computer Braille translation for American, British, and French Braille.
Intermediate levels (between grade 1 and 2) for American and British braille
The ability to include tactile graphics files for mixed text-and-graphic documents
Imports from popular word processors including Microsoft Word and WordPerfect, HTML, ICADD, DAISY/NISO/NIMAS, formatted and plain ASCII, earlier braille editors such as EDGAR and Polkadot, Duxbury's own historical file formats, and more.
The current translation table menu includes dozens of major languages plus variations, including grade 2 support for most jurisdictions where grade 2 is customarily used. Moreover, DBT allows languages other than the principal language to be embedded in the same file and treated as appropriate for the context. (Contact us if you have questions about a specific language.) Now braille for foreign-language texts and language teaching texts is a snap.
Bidirectional (print-to-braille and braille-to-print) translation
American textbook layout according to Braille Authority of North America (BANA) standards, and likewise the Braille Authority of the United Kingdom (BAUK) customs for the same purpose
Accurate presentation of both print or braille in either WYSIWYG (what-you-see-is-what-you-get) or coded (how-you-get-what-you-want) views in the word-processing screen, with easy switching between views
A "translated line" showing the "other" form in either print or braille files
Six-key chording for braille and print entry, not timing-based, compatible with most keyboards
Help screens throughout the program
Documentation in print, braille & electronic formats
Over 100 formatting & translation codes for a high level of flexibility
A library of user-configurable styles
A user-extendable template library for even more flexibility
A spell-checker with 300,000-word dictionary
A "Quick Find Misspelling" feature for increased speed and ease of use
Embossing to all major braille printers; the first page may be a "banner" for job identification by personnel who don't read braille
The Duxbury Braille Font for viewing braille dots within other programs
Choice of single-user, site & other licenses
The ability to process files as large as the operating system allows
The ability to have multiple files open simultaneously
Unlimited technical support by telephone, email, fax, etc.
An Internet user forum to communicate with other Duxbury users
All backed by a 90-day satisfaction guarantee!
Systems Requirements for DBT Win
25 Mb available hard drive space; Microsoft Windows version 98, ME, NT, 2000, or XP
To purchase, contact us by email or Toll-Free: 866-339-1180.