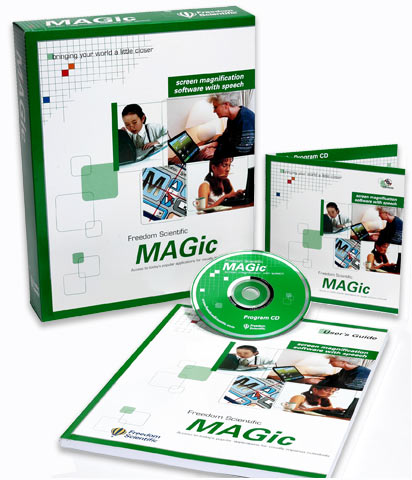 MAGic / MAGic with Speech
MAGic® combines great magnification features with true low vision screen reading when purchased with the speech option. It gives you the ability to choose the information you want read from the screen as you navigate your applications. MAGic is easy to use with its talking large print installation, color-coded user interface, and hot keys that avoid conflicts with Windows® and popular software applications.
---
More Information
MAGic helps people with low vision view information on their computer screen while hearing it through their speech synthesizer. MAGic combines state of the art magnification features with a true low vision speech option. The software magnifies screen information, from one to 16 times its normal size. MAGic is easy to use and includes many powerful, versatile features. The smooth performance of MAGic and wide array of flexible options help you get the most from your computer.
Mouse and cursor enhancements help you track the location of the mouse pointer and cursor on the screen. You can choose from a wide variety of enhancement styles. MAGic lets you change the color of these enhancements, apply transparency effects, adjust their size, and more.
Color enhancements let you change how colors display on your screen. You can create rules that replace one color with another or switch two colors. You can also apply tinting, make your screen monochrome, and invert the brightness and colors of your display.
Choose from several customizable magnified views that let you see both an unmagnified and magnified area of the screen simultaneously. Switching and resizing views is easy and quick.
Move the magnified area of the screen with the keyboard by using the versatile panning featues of MAGic.
Use synthesized speech to read text using the mouse or keyboard. Read by word, line, sentence, or paragraph, or use the mouse to read words or lines that you point to.
MAGic highlights text as it reads, and you can control the size, color, and style of highlighting.
Customize MAGic speech by changing the pitch, voice, speech rate, and verbosity level.
Use magnification and speech together, or independently.
Tracking features move the magnified area so the mouse pointer, cursor, highlighting, and other screen elements remain visible.
The Locator feature lets you quickly jump to different areas or find items on your screen.
The Quick View Frame allows you to monitor a region of the screen while you work in other areas. MAGic displays this region in a small, inset window so you can see any changes or updates to that part of the screen.
The talking installation of MAGic enables you to independently install the program.
Compatible with the world's most popular screen reader, JAWS for Windows.
Detailed, easy-to-use online Help and context-sensitive help for all dialog box options.
MAGic Standard Edition for Windows XP Home.
MAGic Professional Edition for Windows XP Professional, Home, and Media Center Editions/2000.
30-day money-back satisfaction guarantee and limited 90-day warranty against manufacturing defects.
Software Maintenance Agreement is available for future upgrades of MAGic. Multi-user license agreements also are available.
*Note: While MAGic supports the Windows XP Media Center Edition operating system, support for Media Center applications is limited to areas where Microsoft ® Active Accessibility® has properly exposed adequate information.
To purchase, contact us by email or Toll-Free: 866-339-1180.