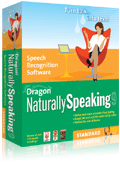 See also:

Dragon Naturally Speaking Standard 9
With Dragon Naturally Speaking® Standard you can talk to your computer and watch words quickly appear in documents, e-mails, instant messages and even surf the web simply by speaking! It's amazingly accurate - up to 99% - and really easy to use. There's no script reading or "voice training" required, so you can get started dictating right away. Perfect for the whole family - busy parents, kids just learning to type, and even grandparents!
Dragon Naturally Speaking Standard 9 is an easy-to-use product that gives you everything you need to get started, including a free high-quality headset microphone with noise canceling technology.
---
More Information
AMAZINGLY ACCURATE!
More accurate than ever before, Dragon NaturallySpeaking® 9 is often more accurate than typing. Dragon NaturallySpeaking never makes a spelling mistake, and it actually gets smarter the more you use it!
FASTER THAN TYPING!
Most people speak over 120 words per minute, but type less than 40 words a minute. Dragon NaturallySpeaking lets you create letters and e-mails about three times faster than typing by hand!
SO EASY TO USE!
You'll be dictating letters, e-mails and surfing the web by voice right away! No script reading required to get started. We even include a full set of on-screen tutorials, and a Nuance approved free noise-canceling microphone.
USE WITH MANY WINDOWS PROGRAMS!
Use your voice to dictate, edit and control applications like Microsoft® Word, Microsoft® Outlook® Express, Microsoft Internet Explorer, and America Online®.
A BEST SELLER AROUND THE WORLD
Dragon products have won over 175 major awards for accuracy and ease of use, and are used by more people around the world than any other speech recognition software.
SURF THE WEB BY VOICE!
Just say where you want to go, and let your PC do the rest!
To purchase, contact us by email or Toll-Free: 866-339-1180.