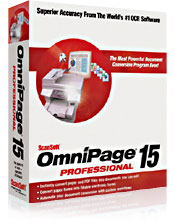 OmniPage Professional 15
OmniPage Professional 15, the flagship version of the world's best selling OCR software, is the most precise and efficient way to convert documents and forms into your favorite PC applications. Unrivaled OCR engines combine with advanced workflow technology to automate all your conversion needs. Whether you want to make paper digital, convert Quark files to Word, or create batches of PDF files, OmniPage is up to the task with superior accuracy (over 99%) and formatting. OmniPage Professional is the only product you need to convert, edit, archive and share all your paper and PDF documents.
OmniPage Professional 15 allows business professionals to achieve new levels of productivity by eliminating the manual reproduction of documents. Precision OCR analysis, advanced layout detection, Logical Form Recognition™ (LFR) technology, and advanced security features quickly turn office documents and forms into over 30 different PC applications for editing, searching and sharing. Custom workflows handle large volumes of documents with a click of the mouse or the push of a button on your scanner or All-in-One device. Robust tools enable you to print to PDF, turn text documents into audio books and add digital signatures to your electronic documents. In addition, the award winning, ScanSoft PDF Create! and PDF Converter programs are included providing a complete and unmatched PDF solution.
---
More Information
The Most Accurate OCR and Layout Retention
We've taken the world's best OCR software and increased its accuracy—again! Why? Because better accuracy means less word errors and less edits—resulting in more time-savings. With a 25% increase in accuracy – and up to 50% more accurate than alternatives, you'll spend dramatically less time on document conversions. PC Magazine's independent lab results confirmed OmniPage to be the most accurate, and the only OCR product to successfully process all of their test documents. OmniPage delivers superior page layout algorithms to ensure that your converted document is as exact to the original as possible. Whether you've got 1 sales sheet or a 1,000 page report, OmniPage Professional's new engines can handle them all with both speed and accuracy, giving you superior results!
The Best in Speed and Accuracy
OmniPage Professional is now equipped with faster, more powerful OCR engines as well as new One-Button Scanning. The combined power of these two new enhancements and the 25% increase in accuracy make OmniPage Professional the fastest, most accurate time-saving way to convert documents.
Improved Formatting
More time, money and energy will be saved by upgrading to OmniPage Professional 15 than any previous version. We've examined millions of documents and collaborated with industry leaders such as Microsoft® and Xerox® to deliver better layout retention and improved formatting. OmniPage Professional accurately recognizes and formats columns, tables, bullets, footnotes, punctuation, graphics and symbols.
Batch Digital PDF Archive
PDF has become the best way to archive important documents, from email and Microsoft Office documents, to Visio® charts and CAD projects. There's never been a cost-effective way to do this at the desktop – until now! OmniPage Professional includes a powerful Batch PDF Conversion capability that allows you to easily convert any format into secure, compressed PDF files for archive systems. With OmniPage 15 you get the core Digital PDF conversion capabilities found in Adobe Distiller Server and Jaws PDF Server, but in a more affordable and easier to use application. PDF power at the desktop for everyone!
Amazing Digital-to-Digital Document Conversion
Included in this upgrade is the new Document-2-Document Converter which allows you to transform your existing documents into your favorite formats. No more wasted time spent re-creating documents for use in specific applications. You can turn your Quark XPress® document into Word, your PageMaker® document into WordPerfect®, etc. It's as easy as opening the application and selecting "save as".
Automatic Form Conversion from Paper and Digital
Turn Paper Forms into Electronic Forms. Electronic forms are easier to distribute, fill and process than paper forms. The challenge has always been getting existing paper forms into an electronic format. That's where another big time-saver and long-time request of OmniPage users comes in. The new Form Converter feature turns scanned, paper forms into editable electronic PDF, XML, or Microsoft InfoPath forms automatically. In short, we've merged the best of our award winning OmniForm® product into this best ever OmniPage – saving you hundreds of dollars in the process.
Point and Click Document Capture and Workflows
With enhanced automation and output features, OmniPage Professional makes archiving faster, more flexible and more secure than ever—freeing you from some of the most tedious tasks. OmniPage Professional lets you send customized email notifications that your document conversions are complete. It can also automate password protection and encryption of sensitive information to ensure security within your organization. Use the digital signatures feature to ensure the authenticity of your documents and archival process.
The Most Editable Word Conversion
The new ExactWord capability within OmniPage Professional uses information from Microsoft Word to make converted documents significantly easier to edit - complete with columns, tables, bullets and graphics.
Never Rescan Another Document with SET Tools
Only OmniPage gives you the power to correct and enhance scanned images, PDF files and faxes using SET - Scanner Enhancement Technology tools. Now you can use point-and-click SET tools to improve the quality of scanned documents, faxes and poor quality copies. De-skew, de-speckle, adjust color and more - all helping to increase the accuracy of your OCR processing and PDF indexing. Straightening, de-speckling and accurate color conversions ensure you get the results you demand and that you will never need to re-scan a document again!
Includes PDF Create! and PDF Converter 3.0
OmniPage Professional includes PDF Create! 3.0 to create PDF files from any PC application as a powerful way to share secure documents and PDF Converter 3.0, to turn PDF files into fully-formatted Microsoft Word, Excel and Corel WordPerfect documents. Both utilities include an "Assistant" that simplifies creation and conversion of PDF files from the desktop, and within Windows Explorer and Internet Explorer.
Create Audio Documents from Paper and Digital Documents
OmniPage lets you turn scanned paper, PDF files and even electronic documents into human-sounding audio-documents. Using Nuance RealSpeak®, the world's best text-to-speech technology, you can listen to documents on your PC, from a CD or even on digital music devices. A great productivity tool for professionals on-the-go and for those who experience difficulty reading documents on a computer screen.
To purchase, contact us by email or Toll-Free: 866-339-1180.